Acino wins CSR Project of the Year and Regulatory Affairs Director of the Year at Eurasian Pharma Awards
Tuesday 15th March 2022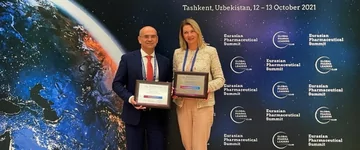 Acino has won two Eurasian Pharma Awards in the categories of Corporate Social Responsibility Project of the Year, and Regulatory Affairs Director of the Year at the Eurasian Pharmaceutical Summit in Tashkent, Uzbekistan. There were 127 applicants ranging from pharmaceutical manufacturers and distributors to pharmacy chains from 13 countries in the region.
Corporate Social Responsibility Project of the Year award for "Your unlimited world"
This is the second year in a row that the Acino CIS team wins in the Corporate Social Responsibility category – in 2020 Acino Belarus won with its World Heart Day campaign.
"Your unlimited world" is Acino's large-scale, all-Ukrainian social program to help children with autism spectrum disorder (ASD) to socialize and improve their quality of life. The program also promotes information about autism among healthcare professionals, educators and parents.
"We are honored to win this prestigious award, which recognizes Acino's contribution to our patients' quality of life. We started our journey four years ago by publishing and distributing study guides and other useful literature, opening sensory rooms, and supporting sports competitions for children with ASD. Today, we do much more. Our Medical Department in Ukraine has worked hard on this initiative and we have received a lot of positive feedback from children, parents, and the medical community," said Eugene Zaika, Regional Head Ukraine and CIS at Acino, who accepted the award.
"Your unlimited world" had already won the Social Project of the Year Panacea award in 2020.
Regulatory Affairs Director of the Year
Alla Sorokoletova, Director of Medical and Regulatory Affairs, Pharmacovigilance, Quality in Ukraine and CIS, was recognized as Regulatory Affairs Director of the Year.
"This award recognizes the hard work of Acino's regulatory affairs function in Ukraine and the CIS countries, which is key to ensuring we provide patients access to safe and effective medicines. Regulatory practice is a continuous process that allows us to efficiently and quickly expand our portfolio and bring products to the market while remaining compliant with regulatory and legislative requirements," said Alla Sorokoletova.
The Eurasian Pharma Awards cover the most important topics and industry trends in the public and private sectors, from pricing and labeling to sales and marketing, regulatory and medical issues in Ukraine, Moldova, Belarus, Armenia, Georgia,  Azerbaijan, Russia, Kazakhstan, Uzbekistan, Kyrgyzstan, Tajikistan, Turkmenistan, and Mongolia.